Zoom Teeth Whitening
We are proud to offer the newest In-Office Whitening System, Zoom!™.
Hours
M-T: 8am – 5pm
F-Sat: 8am – 3pm
Emergencies: call office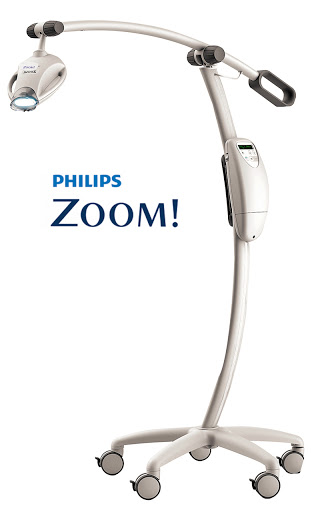 Teeth Whitening
Tooth whitening is used to correct discoloration of a tooth by removing the brown and yellow staining. The term "tooth whitening" or "tooth bleaching" can refer to a number of techniques to improve the brightness of the patient's tooth. Among them are chemical whitening, mild acid whitening , abrasive tooth brightening and the newest techniques, laser and Zoom tooth whitening.
Tooth bleaching is a chemical process used to lighten the colour of a patient's tooth. The procedure can be performed entirely in the cosmetic dentist's office in only one or two visits. Your cosmetic dentist may first try a regular abrasive cleaning of the tooth. This may be followed by a bleaching process on the stained tooth or teeth. Severely stained teeth may require the use of a special whitening gel activated by a laser or Zoom light. Your cosmetic dentist will carefully lighten the tooth until a near perfect colour match with your other teeth is achieved.
Tooth whitening is not a permanent procedure. Results can last for one or more years, depending upon your personal habits. In most cases the tooth whitening procedure is very effective and the patient is pleased with the results.
Zoom Teeth Whitening
At Madison Dental Centre we are proud to offer the newest In-Office Whitening System, Zoom!™. The name Zoom! describes how fast this amazing product works. How fast? It takes just over an hour in my office. What used to take up to two weeks of daily at home applications can now be done in one short appointment. You can feel good and look great, faster than ever before.
The Zoom! In-Office Whitening System utilizes a revolutionary new gel combined with a full-mouth bleaching light right in my office. We're truly excited about Zoom! whitening and what it can do for our patients.
Call us to set up an appointment to discuss Zoom! In-Office Whitening System and get a free smile evaluation.
Working Hours
M-T: 8am – 5pm
F-Sat: 8am – 3pm
Emergencies: call office